Ortur Aufero Laser 1: Laser Engraving Machine is at a discount
Aufero Laser 1 is the true plug and play laser engraver for everyone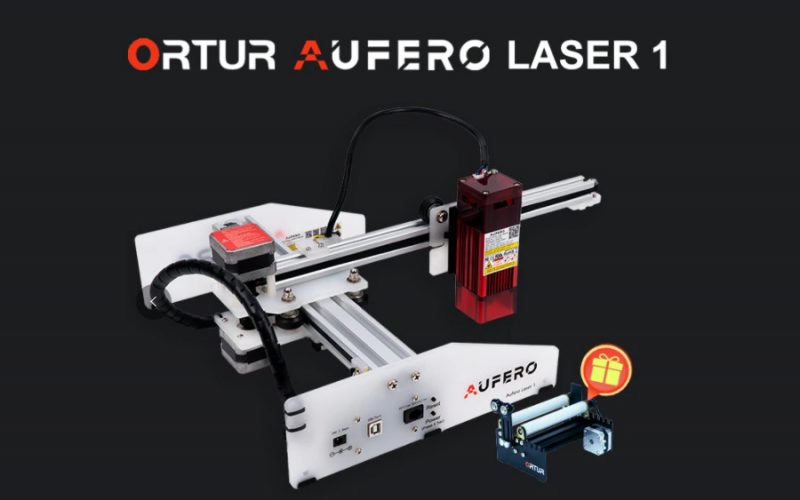 Aufero® is a brand of Ortur® Laser Engraver, already known for its excellent laser engravers. The new Aufero brand focuses on portable diode laser engravers for everyone such as manufacturers, DIYers, small businesses, workshops, artists, engineers and self-employed workers to create works of art and improve their efficiency.
Aufero is the world's first plug and play portable diode laser engraver with the largest engraving area. But the coolest thing about it is that assembling the equipment only takes a few minutes, because everything is pre-assembled. Unlike other equipment where it takes hours to assemble each part, with Aufero, even a person with no assembly skills can assemble the equipment in just a few steps.
The first Aufero Laser 1 engraving machine is currently at super discount until the 17th of November 2021, directly on the manufacturer's website, which makes everything safer and cheaper. And in addition to the possibility of getting the equipment at a super discount until the mentioned date, it is also possible to use a discount coupon to further reduce the price.
Aufero Laser 1: Access here
[power_coupon startdesc="$5 OFF on all products on ortur.net except OLM-2 Pro" finaldesc="Only 50 total uses" code="AUFEROTOP1″ link="false" url="https://s.zbanx .com/r/T9jz9dcd1z99″]
About Aufero Laser 1
The Aufero Laser 1 has 4 safety protections, an advanced matrix and comes pre-assembled in the package. It is not necessary to laboriously learn how to install the machine, and it is very easy to use. This makes the Aufero Laser 1 suitable for newcomers to the laser engraver business and even easier for those who are already experienced. That's why the Aufero Laser 1 is called the true plug and play laser engraver for everyone!
What can you do?
The Aufero Laser 1 is used in artistic creation, soft clothing design, toy puzzle, manufacturing, VI and Life record logo and design. It supports many types of materials such as wood, glass, food, stone, oxidized metal, stainless steel, ceramic tile, cork, paper, acrylic, plywood, leather and more.
The Aufero Laser 1 takes about 1 minute to be assembled and ready to use, unlike others that take around 30 to 60 minutes to be assembled.
Você também vai gostar dessas promoções
Marcus é o fundador da Seletronic. Além disso, é programador, e editor no site. Ama ajudar as pessoas a resolverem problemas com tecnologia, por isso criou esse site. Segundo ele: "A tecnologia foi feita para facilitar a vida das pessoas, então devemos ensinar a usá-la". Apesar de respirar tecnologia, ama plantas, animais exóticos e cozinhar.