BangGood: Discount coupon gives 11% on mouses and keyboards!
This coupon gives great discount on mice and keyboards on the BangGood website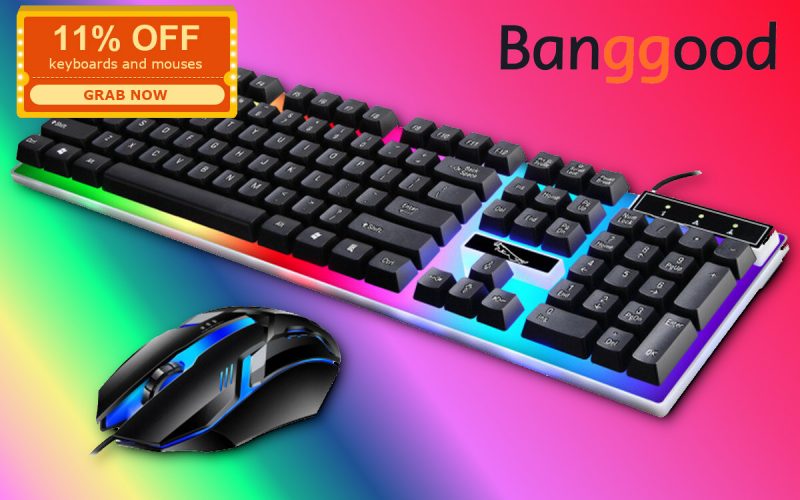 If you are looking for a new keyboard or mouse for your computer, this BangGood coupon entitles you to 11% off this product category. If it's time to buy that beautiful mechanical keyboard for gamers, or an RGB super mouse with DPI ideal for your online games, take advantage of this super offer to get it at the best price.
Mouse and Keyboard Discount Coupon
Get 11% OFF on BangGood
After copying the discount coupon code, go to the mouse and keyboard page here: (Link)
This same coupon is popular on the internet and being advertised by several people, but we couldn't find the expiration date on the coupon, but we did the test on it today and it's working. We hope this super discount coupon on BangGood's mice and keyboards category can help you buy your new peripheral for the price you want to pay.
Please note that the coupon can only be used on the Mice and Keyboards category on the BangGood website, and if you try to purchase an item other than a keyboard or mouse, you will receive an error message saying: "This coupon can only be used on keyboards and mouse category"
Você também vai gostar dessas promoções
Marcus é o fundador da Seletronic. Além disso, é programador, e editor no site. Ama ajudar as pessoas a resolverem problemas com tecnologia, por isso criou esse site. Segundo ele: "A tecnologia foi feita para facilitar a vida das pessoas, então devemos ensinar a usá-la". Apesar de respirar tecnologia, ama plantas, animais exóticos e cozinhar.