CHUWI tablets, notebooks and mini PCs up to 40% off AliExpress
Promotion lasts until 08/04/2021 and brings the launch of CHUWI HiPad Pro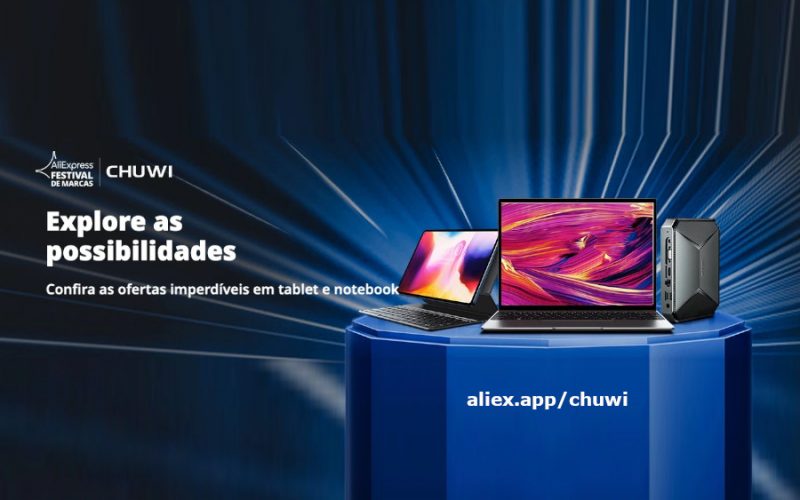 Many people ask if it is safe to buy laptops, tablets or even computers on AliExpress. The answer is that if you buy from official stores that sell quality products like CHUWI, you will surely be satisfied with a good product, in addition to the safety of the purchase. CHUWI entered the official AliExpress promotion along with the launch of its latest model CHUWI HiPad Pro, and has an exclusive page with the brand's featured products in this promotion: Promotion page.
Chuwi is a manufacturer of Android tablets, Windows tablets, luxury design mini PCs, as well as premium quality and affordable notebooks.
Promotion highlights
Check out the products and benefits offered on AliExpress on the official CHUWI page:
CHUWI HiPad Pro 40% off
The main highlight of the promotion is the launch of the CHUWI HiPad Pro, which has a 40% discount, and will give the first 300 buyers a tablet keyboard kit. The CHUWI HiPad Pro tablet features Snapdragon 662, 8GB of RAM and 128GB of internal storage and a 10.8″ Full HD+ screen.
Chuwi-mini PC HeroBox Pro 4K
Another highlight of the promotion with a special place on the promotion page is the Chuwi-mini PC HeroBox Pro, which as the name mentions is a Mini PC. It has a pre-installed Windows 10 operating system and is compatible with Linux. The processor is an Intel Dual core Jasper Laken4500, 10nm that features the Intel UHD Graphics GEN9 GPU. There are 8GB of LPDDR4 RAM and 256GB of SSD, which can expand up to 2TB. Wifi network: 2.4G / 5G, IEEE 802.11b / g / n / ac, Bluetooth: BT4.2, Ethernet input and more.
CHUWI store discount coupons
NOTE: Remember that imports may be taxed according to the value of the product, according to the rules of your country.
Você também vai gostar dessas promoções
Conteúdo não patrocinado: But Seletronic can receive commission through sales made on the links in this article. The prices informed may change without prior notice.
Marcus é o fundador da Seletronic. Além disso, é programador, e editor no site. Ama ajudar as pessoas a resolverem problemas com tecnologia, por isso criou esse site. Segundo ele: "A tecnologia foi feita para facilitar a vida das pessoas, então devemos ensinar a usá-la". Apesar de respirar tecnologia, ama plantas, animais exóticos e cozinhar.