Zendure SuperBase V: Turn Your Home into an Energy Oasis with this Super Power Station
Power, Flexibility and Independence: Meet the Zendure SuperBase V Power Station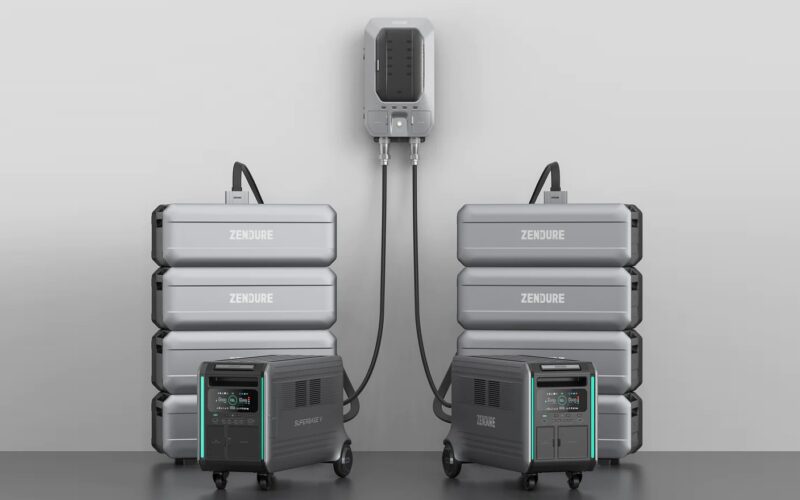 If you are looking for an innovative solution to ensure reliable power in your home and stay prepared for any situation, Zendure SuperBase V Power Station is just what you need. With its revolutionary technology and user-centric design, the SuperBase V is much more than just a power station – it's a smart investment for your home and peace of mind.
Whole Home Power On Demand
Imagine not worrying about power outages anymore. With the SuperBase V, you will have energy on demand to power your entire home. Whether during an unexpected power outage or to manage your daily energy consumption, SuperBase V gives you the flexibility to power your electronic devices, home appliances and even electric vehicles.
Smart Power Management Technology
One of the outstanding features of the SuperBase V is its domestic panel with outlets for electric vehicles. This allows you to connect the station directly to your home's electrical circuits, ensuring an efficient power supply. In addition, the Zendure app allows you to monitor and manage your energy consumption in a personalized way. With Zendure's Runtime tools, you can significantly reduce your energy bill.
Automotive Grade Semi-Solid State Batteries
The innovation doesn't stop there . The SuperBase V is the first home power station to use automotive grade semi-solid state batteries. With an impressive energy density, these batteries offer up to 42% more energy per kilogram compared to lithium iron (LiFePO4) batteries. And with Zendure's battery management software, internal battery life can reach an incredible 10 years or more.
Power to Power Your Life
From home appliances to electric vehicle charging systems, SuperBase V offers incredible output capacity. A single unit can supply up to 3800W of power, and two units can be connected to provide up to 7600W. This means you can easily power everything from refrigerators and dryers to space heaters and more.
Solar Power + AC for Fast Charging
One of the notable features of the SuperBase V is its flexibility of loading. It can combine solar power and AC power for fast charging. The SuperBase V can reach up to 5,150W of charging power on its own, and that number goes up to 6,600W when connected to a Satellite Battery. Plus, with solar charging, you can charge up to 3,000W, enough to fully recharge the main unit in just 2-3 hours. The SuperBase V is compatible with a variety of solar panels, offering even more versatility.
Quickly Recharge with 240V Power
If you are using a 240V outlet, the SuperBase V can achieve an input power of 3,600W. This means that a full recharge of the power station will only take about 2 hours. With its fast charging capability, you'll always be ready for any situation, whether it's an emergency or efficient home energy management.
The Zendure SuperBase V Power Station is the complete solution to your energy needs. With impressive power and charging flexibility, it offers peace of mind and reliability for your everyday use and emergencies. Discover how the SuperBase V can transform your relationship with energy!
Fast Charging with Solar Energy
When it comes to renewable energy, the SuperBase V stands out. It can be charged using solar panels, allowing fast charging of up to 3,000W using only solar energy. Compatible with a wide range of solar panels from different manufacturers, this power station easily integrates into your existing solar system.
The Smart Choice for Reliable Power
Whether for emergencies or for everyday use, the Zendure SuperBase V Power Station offers a complete and reliable power solution. With its user-friendly design, innovative technology and impressive power, it's an investment that transforms your home into an energy oasis. Be sure to guarantee your peace of mind and energy autonomy with Zendure's SuperBase V.
Take advantage now to acquire your Zendure SuperBase V Power Station and be prepared for any scenario.
Conteúdo não patrocinado: But Seletronic can receive commission through sales made on the links in this article. The prices informed may change without prior notice.
Marcus é o fundador da Seletronic. Além disso, é programador, e editor no site. Ama ajudar as pessoas a resolverem problemas com tecnologia, por isso criou esse site. Segundo ele: "A tecnologia foi feita para facilitar a vida das pessoas, então devemos ensinar a usá-la". Apesar de respirar tecnologia, ama plantas, animais exóticos e cozinhar.
Categorys