Review: Canon EOS 5D Mark IV Camera
Canon EOS 5D Mark IV Review: Exceptional image quality and performance, but with price and lens availability as obstacles.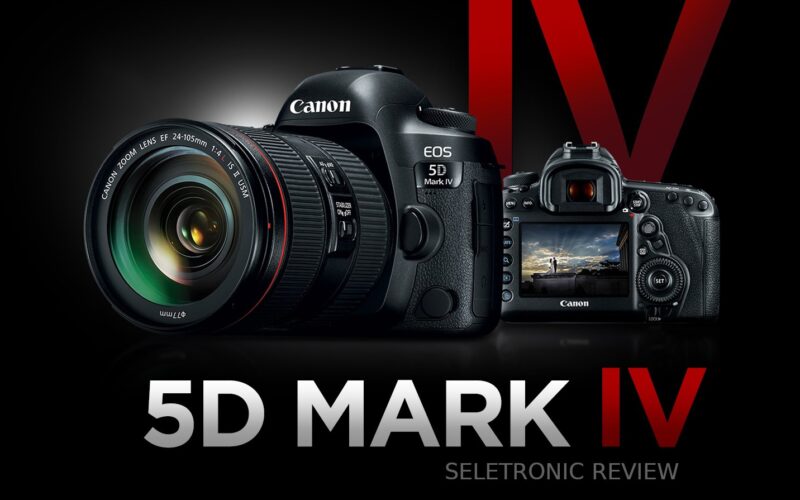 The Canon EOS 5D Mark IV is the latest addition to Canon's legendary 5D family. This camera expands the capabilities of the 5D line, offering new features and improved operation. Designed to exceed user expectations, the EOS 5D Mark IV is capable of capturing high-resolution 4K stills and videos with exceptional clarity and detail. It combines a 30.4 megapixel full-frame sensor, an advanced autofocus system, a powerful image processor and much more. Whether you're a photo enthusiast, a professional or a videographer, the EOS 5D Mark IV promises to meet your needs and deliver legendary performance.
Context of using the camera
The EOS 5D Mark IV camera is suitable for a variety of users, from photography enthusiasts to professionals. Whether you're into hobbies like wedding, wildlife, sports or landscape photography, this camera offers high image quality and advanced features to capture your most important moments. Plus, if you're a videographer, the ability to record 4K video with sharp detail and precise focus makes the EOS 5D Mark IV an excellent choice.
Design and Ergonomics
The EOS 5D Mark IV camera features the rugged and durable design typical of Canon's 5D lineup. It has a balanced size and weight, making it comfortable to hold and handle during long periods of use. The high quality construction material adds to its strength and reliability. Controls and buttons are accessible and well placed, providing intuitive operation. The camera's ergonomics are excellent, allowing extended use without fatigue or discomfort.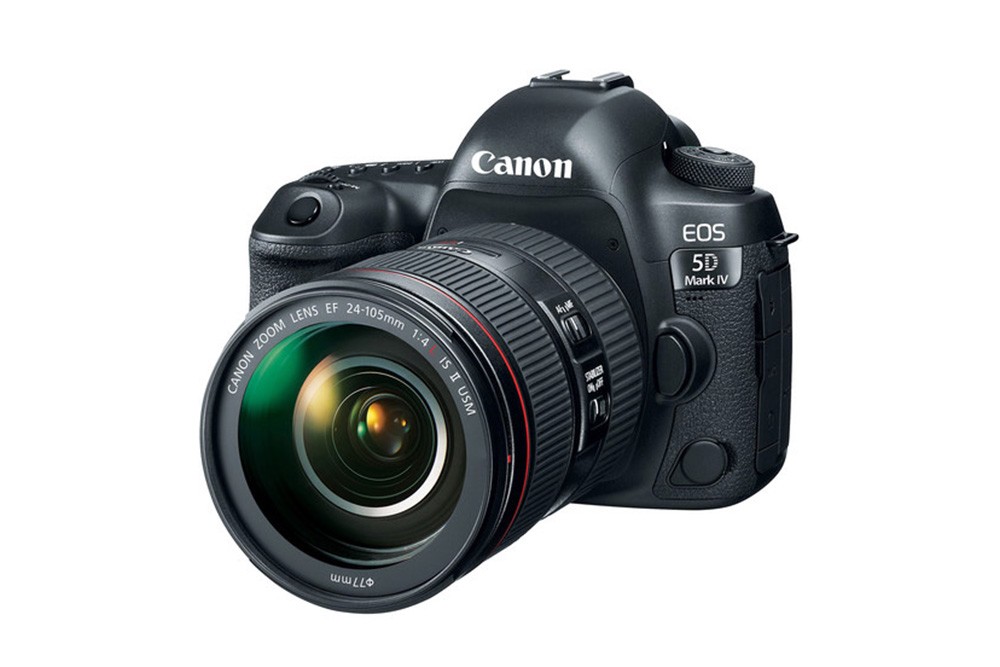 Sensor and Image Quality
The EOS 5D Mark IV features a 30.4-megapixel full-frame sensor, offering a high resolution for capturing sharp details and vibrant colors. This sensor delivers phenomenal results in both stills and video. It offers impressive low-light performance with an ISO sensitivity range of 100 to 32000 (expandable to 50 to 102400). This means you can get high quality images even in challenging lighting environments. In addition, the camera has excellent dynamic range and advanced noise reduction capability in high ISO sensitivity images.
Auto Focus System
The EOS 5D Mark IV has an autofocus system with 61 focus points, which provides wide coverage of the image area. This allows for fast and accurate focusing in a variety of situations.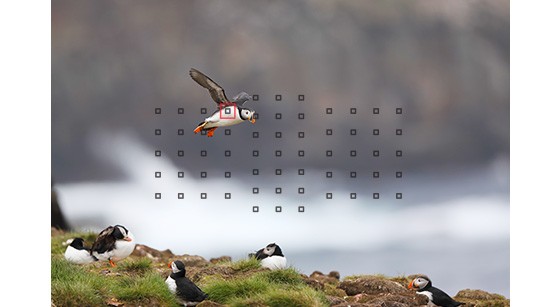 The autofocus system is highly responsive and provides reliable tracking of moving subjects. It is able to track subjects at varying speeds, making it suitable for shooting sports, wildlife and other fast-moving subjects. In addition, the focusing system has advanced features such as Dual Pixel CMOS AF phase detection, which offers exceptional performance while recording videos.
4K Video Recording
One of the main advantages of the EOS 5D Mark IV is its ability to record 4K video. This lets you capture scenes with an incredible amount of detail and clarity. The camera offers flexible frame rate options for 4K videos, including 30p and 24p, allowing you to choose the style you want for your recordings. In addition, the camera offers advanced video recording features, such as the ability to extract individual frames from a 4K video to save as high-resolution stills.
Battery
The Canon EOS 5D Mark IV uses the Canon LP-E6NH rechargeable battery, which has the same form factor as the LP-E6 / LP-E6N batteries. This new battery can be used as a replacement, offering the advantage of storing more energy compared to previous models.
While the LP-E6N model has a capacity of 1865mAh, the new LP-E6NH has a capacity of 2130mAh, representing an increase of 14%. This increased capacity is especially useful for video recording.
An added feature of the LP-E6NH is support for USB charging when connected to USB-compatible cameras. This provides a convenient and practical option to recharge the battery directly in the camera, without the need for an external charger.
Connectivity and Additional Features
The EOS 5D Mark IV has built-in Wi-Fi connectivity, allowing you to easily share your photos and videos with compatible devices such as smartphones and tablets. You can also remotely control the camera via a dedicated app, making it more convenient to take pictures in situations where you can't be close to the camera. In addition, the camera has a dual memory card slot (CF and SD), which allows for additional storage capacity or simultaneous recording to both cards.
Official Manufacturer Video about the camera
Availability and Price
In evaluating the availability and price of the Canon EOS 5D Mark IV, we found different purchase options at various retailers as of the date of this publication. On Amazon, you can purchase the camera body at a significant discount of 44%. The original price of R$24,999.00 on the platform has been reduced to R$13,969.00, making it a more affordable option for interested photographers . In addition, the option to pay in up to 10 interest-free installments can make the purchase even easier.
In the official Canon store we find the option to purchase the camera with the 24-105mm f/4L II USM lens. However, the price is slightly higher compared to Amazon's offer. The camera with the lens is being sold for R$27,299.00, which represents a considerable difference compared to the price of the camera body separately.
Therefore, when considering the availability and price of the Canon EOS 5D Mark IV, the Amazon option offers a significant discount, making it an attractive choice for those looking to save money. However, it is important to assess your individual needs and preferences before making a final decision.
Our Conclusion
The Canon EOS 5D Mark IV is an exceptional camera offering advanced features, impressive image quality and reliable performance. Its 30.4-megapixel sensor, 61-point autofocus system, and 4K video recording capability make it a versatile choice for a variety of types of photography and videography. The camera's rugged, ergonomic design provides comfort and ease of use, while Wi-Fi connectivity and additional features enhance the user experience. Overall, the Canon EOS 5D Mark IV is a solid choice for enthusiasts and professionals alike who want to capture high quality images and video.
Pros:
Exceptional image quality: The Canon EOS 5D Mark IV delivers stunning image quality thanks to its 30.4 Megapixel sensor and advanced image processor. Your photos will be sharp, detailed and with accurate color reproduction.
Fast and accurate autofocus performance: With its 61-point autofocus system, the 5D Mark IV offers reliable autofocus performance. It is able to track fast moving subjects and ensure your photos are always sharp.
4K Video Recording: The ability to record 4K video is a standout feature of the 5D Mark IV. This allows you to capture exceptional quality video with sharp details and vibrant colors.
Built-in Wi-Fi connectivity: With Wi-Fi connectivity, you can easily transfer your photos and videos to mobile devices and share them on social networks. Also, you can remotely control the camera using a dedicated app, which is useful for situations where you can't be close to the camera.
Cons:
Heavy Price: The Canon EOS 5D Mark IV is a professional-grade camera and as such comes at a hefty price. This can be a stumbling block for amateur photographers or enthusiasts on a budget.
Difficult to find a lens kit: One of the disadvantages of the 5D Mark IV is that it is often sold as a body only, without the lens included. This means you'll need to purchase the lenses separately, which can be inconvenient and add to the total cost of the system.
Size & Weight: The 5D Mark IV is a larger-sized, heavier DSLR camera. This can make it less portable and more tiring to carry around for long periods of time, especially compared to more compact mirrorless cameras.
In summary, the Canon EOS 5D Mark IV is a camera with excellent image quality, autofocus performance and advanced video capabilities. However, its high price and the difficulty in finding a kit with lenses can be considered negative points for some photographers.
Review Canon EOS 5D Mark IV
Marcus é o fundador da Seletronic. Além disso, é programador, e editor no site. Ama ajudar as pessoas a resolverem problemas com tecnologia, por isso criou esse site. Segundo ele: "A tecnologia foi feita para facilitar a vida das pessoas, então devemos ensinar a usá-la". Apesar de respirar tecnologia, ama plantas, animais exóticos e cozinhar.
Categorys