Review: 1MORE SonoFlow – Wireless Active Noise Cancelling Headphones
1MORE SonoFlow Wireless Active Noise Canceling Headphones Review: Immerse yourself in an exceptional audio experience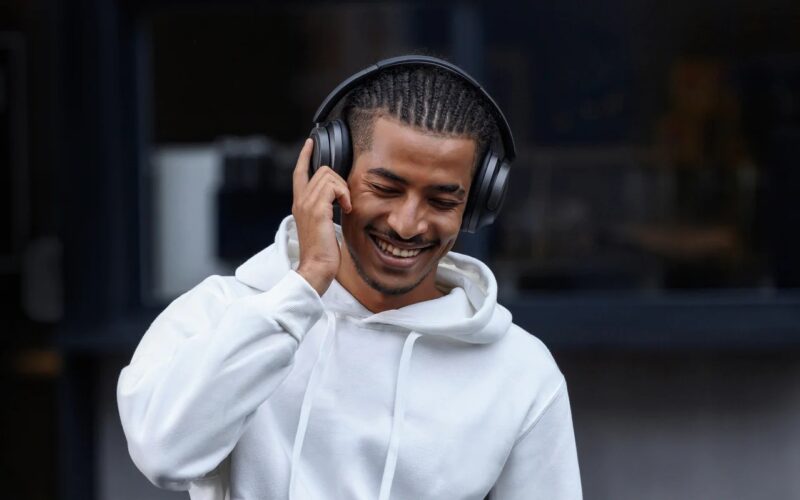 The 1MORE SonoFlow Headset Headphones are a promise of exceptional sound quality and an immersive auditory experience. With advanced features such as Hi-Res Audio certification, professional sound tuning, and effective noise cancellation, these headphones are ready to take your music experience to a new level. Prepare to dive into a world of refined sound, subtle details, and unparalleled comfort. In this review, we will explore all aspects of the 1MORE SonoFlow and discover why they are a worthy choice for audiophiles and music enthusiasts in general.
Introduction: An immersive and high-quality audio experience
The 1MORE SonoFlow is designed to provide an immersive and high-quality audio experience. With advanced features such as Hi-Res Audio certification, professional sound tuning, and effective noise cancellation, these headphones promise to deliver refined sound and an exceptional auditory experience.
Impressive sound quality: Immerse yourself in music with clarity
The 1MORE SonoFlow is equipped with 40mm drivers and a DLC (Diamond-Like Carbon) and PET film diaphragm, providing precise audio reproduction. With an ultra-wide frequency response range of up to 40kHz, these headphones reproduce rhythmic bass, warm mid-range, and crisp highs. The Hi-Res Audio and Hi-Res Audio Wireless certification ensure exceptional sound quality, allowing you to enjoy every subtle detail of your favorite music.
Professional sound tuning: Customize your auditory experience
The 1MORE SonoFlow has been tuned by renowned sound engineer Luca Bignardi, a four-time Grammy award winner. This means you can experience music exactly as the musicians and sound technicians heard it in the recording studio. Additionally, these headphones come with 12 studio-quality equalization presets in the 1MORE MUSIC app, allowing you to customize your auditory experience according to your musical preferences.
Effective noise cancellation: Hear only what you want
Thanks to the proprietary QuietMax noise cancellation technology, the 1MORE SonoFlow effectively blocks out external noises, allowing you to focus only on your music. If you need to be aware of your surroundings, simply press the button to activate transparency mode and listen to what's happening around you without removing the headphones.
Long battery life: Limitless music
With a single charge, the 1MORE SonoFlow offers up to 70 hours of continuous playback with noise cancellation disabled, so you can enjoy long listening sessions without worrying about the battery. Additionally, the fast charging feature allows you to get up to 5 hours of playback with just 5 minutes of charging, ensuring you never run out of music when you're in a hurry.
Clear calls: Communicate with clarity
The 1MORE SonoFlow is equipped with 5 ENC (Echo and Noise Cancellation) microphones, allowing for clear and crisp calls even in noisy environments. The integrated artificial intelligence algorithm helps filter out background noise, ensuring that your voice is heard clearly by your callers.
All-day comfort: Enjoy long listening sessions
The 1MORE SonoFlow is designed to provide all-day comfort. The soft, skin-friendly synthetic leather earpads offer a smooth and pleasant fit. The padded adjustable headband provides a customized fit for different head sizes. Additionally, these headphones are lightweight, making them ideal for extended listening sessions without causing discomfort.
Flexible connectivity: Wireless versatility
The 1MORE SonoFlow can be connected wirelessly via Bluetooth, allowing you to move freely without worrying about tangled wires. Additionally, they support wired connection using the included 3.5mm audio cable, providing an additional connection option. The ability to simultaneously connect with two Bluetooth devices makes it easy to switch between devices and ensures you're always connected.
Foldable design and portability: Take your headphones anywhere
With their foldable design, the 1MORE SonoFlow is easy to carry on trips and takes up less space in your bag or backpack. Additionally, the inclusion of a durable carrying case helps protect the headphones during transportation.
Conclusion: 1MORE SonoFlow – An exceptional audio experience
The 1MORE SonoFlow Wireless Active Noise Cancelling Headphones offer an exceptional audio experience with impressive sound quality, effective noise cancellation, professional sound tuning, and all-day comfort. With long battery life and clear calls, these headphones are ideal for extended listening and clear communication. With their flexible connectivity and foldable design, they are perfect for taking anywhere. If you're in search of headphones that provide an immersive sound experience, the 1MORE SonoFlow is an excellent choice.
Availability and price
The 1MORE SonoFlow is available on AliExpress for an incredible price of $95.04 through the link: 1MORE SonoFlow – AliExpress. These headphones are available in Black, Blue, and Silver colors, offering options for all preferences. Additionally, keep an eye out for promotional periods as there may be additional discounts, providing even more value for your purchase. Take advantage of this opportunity and get the 1MORE SonoFlow now to enjoy an exceptional sound experience.
Conteúdo não patrocinado: But Seletronic can receive commission through sales made on the links in this article. The prices informed may change without prior notice.
Marcus é o fundador da Seletronic. Além disso, é programador, e editor no site. Ama ajudar as pessoas a resolverem problemas com tecnologia, por isso criou esse site. Segundo ele: "A tecnologia foi feita para facilitar a vida das pessoas, então devemos ensinar a usá-la". Apesar de respirar tecnologia, ama plantas, animais exóticos e cozinhar.