Maimo Watch R: Smartwatch with the best price and performance of 2022?
Maimo Watch R is the most amazing Smartwatch Watch of 2022!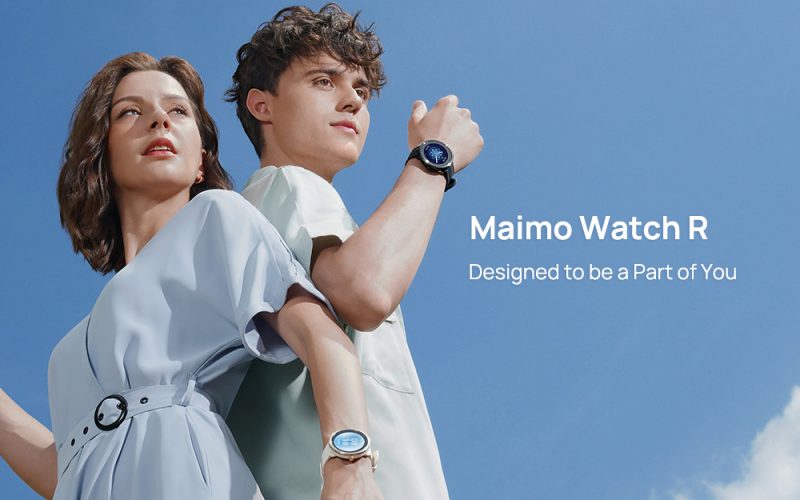 With a minimalist and elegant look, the Maimo Watch delivers everything it promises and more, it is packed with interesting features and has proven to perform admirably.
For those who still don't know, the Maimo line is one of the divisions of the highly regarded Xiaomi, one of the biggest references in the cell phone market and in the technological area.
We had the immense pleasure of testing the Maimo Watch R ahead of its world premiere, and were blown away right away. The quality of this Smartwatch is far superior to all others in the same price range. It is relatively cheap, but has features that are only present in Top of the Line watches, which most of the time cost more than U$ 200! But rest assured that the price of this Maimo is much lower, being accessible to all social classes, which is already an extremely positive point.
Maimo Watch R is an amazing Smartwatch Watch, waterproof, long-lasting battery, quality and incomparable beauty
Elegant Design, High Tech Functions and Waterproof
It's the kind of watch you won't want to take off your wrist anytime soon, it's comfortable, has a very nice and discreet look, and it's waterproof. Which is great for people who are too lazy to take off their watch when the rain hits, or to go to the pool. You can even shower without having to take it off your wrist. In addition to all this practical functionality, it also surprises in terms of software.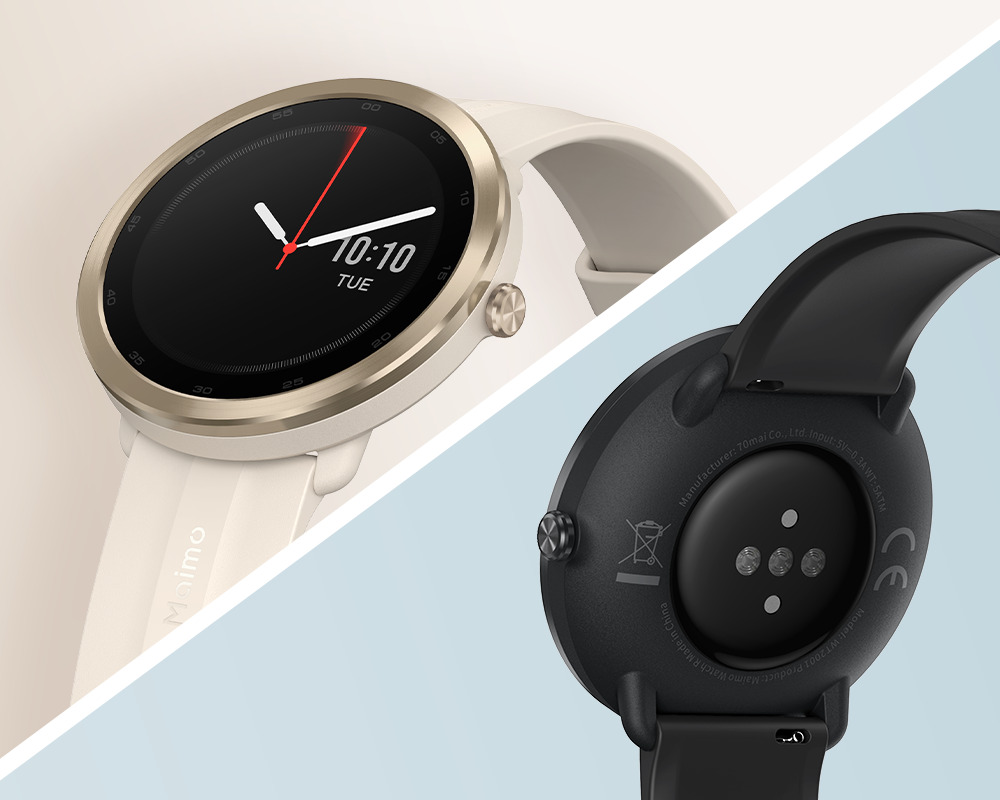 The model is full of functions, it measures heart rate, monitors the quality of your sleep, connects with your cell phone, controls remote cameras, notifies email messages, facebook, whatsapp and everything you need!
The Smartwatch that guides you: GPS
If all the features mentioned were not enough to surprise you, rest assured there is still more! The Maimo has 2 Watch R options. The edition with GPS and the cheaper edition without GPS. I particularly believe that the GPS edition is more interesting, taking into account that the price difference is small and having a light and practical guide on your wrist can save you in many situations. Since I had the opportunity to use a Maimo, I never got lost on the street again. Few watches offer such optimized and functional maps.
Don't forget your appointments: Optimized calendar
It has a calendar with an excellent interface, where you can make a wide variety of settings so that you are always notified of everything you need. Your Smartwatch will never let you forget your appointments.
Touchscreen, Bluetooth, Long Life Battery
The Maimo has a touchscreen as good as the most advanced cell phones, the bluetooth is fast and efficient, but best of all is the battery life of this Smartwatch! It can be used for more than 10 consecutive days without recharging thanks to the 280mAh battery.
It's really impressive efficiency. It has an optimized energy consumption system, which is a great highlight of the product.
Various display options
If you like to change and customize the theme of your Smartwatch, the Maimo Watch R has several themes, for different tastes, from serious and social themes to cute themes.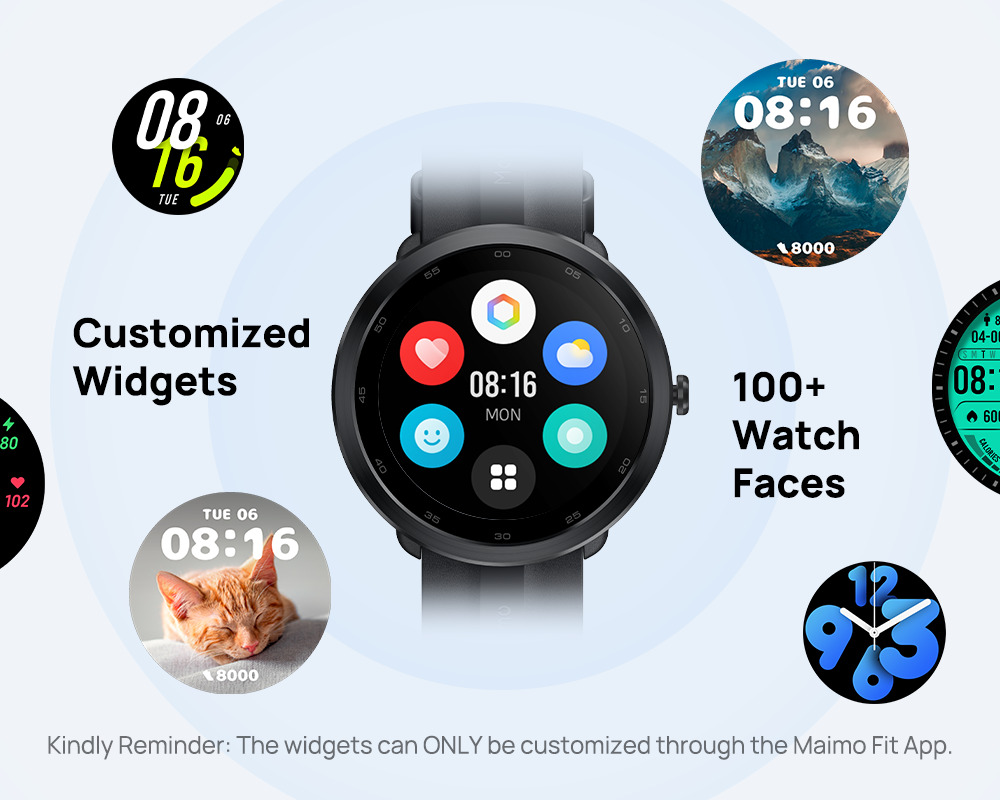 Easier to take pictures and change music
Thanks to the connection system to cell phones or cameras, you can take pictures with a simple click on the clock, allowing for greater ease and practicality with photographs. Another very interesting utility is to change cell phone music through the watch, it ends up being very good for those who practice sports and don't want to take their cell phone out of their pocket.
Highly recommended for sports
It is a light and resistant watch, which makes it easy to train without any restrictions. In addition, it has a complete monitoring system, with more than 100 different modes for sports, and it analyzes everything from heart rate to blood oxygen level. Bringing more practicality and safety to your training and everyday life.
Cost Benefit
Beautiful, modern, with high performance and a long durability thanks to its stainless steel finish. With so many qualities this Smartwatch could cost around U$ 100, which would still be a fair price. But that's exactly why he surprised us so much, even delivering so many features he can be purchased for less than 250 R$ in this current promotion, check out the lowest price of Maimo Watch R clicking here.
Marcus é o fundador da Seletronic. Além disso, é programador, e editor no site. Ama ajudar as pessoas a resolverem problemas com tecnologia, por isso criou esse site. Segundo ele: "A tecnologia foi feita para facilitar a vida das pessoas, então devemos ensinar a usá-la". Apesar de respirar tecnologia, ama plantas, animais exóticos e cozinhar.
Categorys