Connecting the DSLR Camera Directly to Power (With Power Supply)
Learn how to plug a DSLR camera directly into a power outlet via a battery-dispenser adapter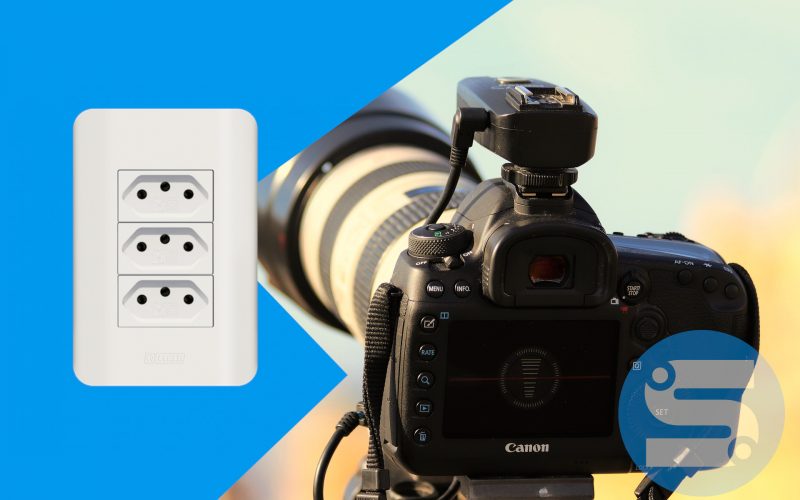 Have you ever stopped relying on the DSRL camera battery while you're at home or somewhere with an outlet? This is possible thanks to an adapter called Dummy Battery. This device works as a wired dummy battery that can be plugged into an electrical outlet. Dummy battery normally has a power supply very similar to notebook power supplies. There are also USB models.
Each model and brand of DSRL camera depends on a different model of dummy battery depending on the battery used. The advantages of Dummy Battery are that you don't need to charge the battery when recording a video and, above all, you don't run the risk of running out of battery during recording. And if you are a Youtuber, you know how important this is.
Some people call the dummy battery a battery eliminator and others call it an infinite battery.
We tested the Canon T5 dummy battery
We made a video showing how to use the dummy battery on the Canon T5 DSRL camera, as well as some important tips about the dummy battery.
| Adapter (Dummy Battery) | Compatibility | Link |
| --- | --- | --- |
| LP-E10 (used in video) | Canon eos rebel t3, t5, t6, t7, t100 kiss x50, kiss x70, eos 1100d, 1200d, 1300d, 2000d, 4000d | View in store |
| LP-E8 | Canon eos rebel t2i, t3i, t4i, t5i, 550d, 600d, 650d, 700d, kiss x4, kiss x5, kiss x6 câmeras. | View in store |
| BatteryCanon Osmo | Canon: vixia hf m50, m52, m500, r20, r21, r30, r32, r40, r42, r50, r60, r62, r80, r200, r300, r400, r500, r600, r800, legria hf r206, r26, r28, vixia mini x | View in store |
| Battery Canon Osmo | Canon: eos r, eos r5, eos r6, eos 5ds, eos 5ds r, eos 5d mark ii, eos 5d mark iii, eos 5d mark iv, eos 6d, eos 6d mark ii, eos 7d, eos 7d mark ii, eos 60d, eos 70d, eos 80d,Câmeras canon eos 90d | View in store |
*Check your camera model on the website, we are not responsible for the product, we only indicate the models.
Marcus é o fundador da Seletronic. Além disso, é programador, e editor no site. Ama ajudar as pessoas a resolverem problemas com tecnologia, por isso criou esse site. Segundo ele: "A tecnologia foi feita para facilitar a vida das pessoas, então devemos ensinar a usá-la". Apesar de respirar tecnologia, ama plantas, animais exóticos e cozinhar.