Is it bad to put your PC on the floor?
Can you put the computer on the floor? - Understand if it's okay to do this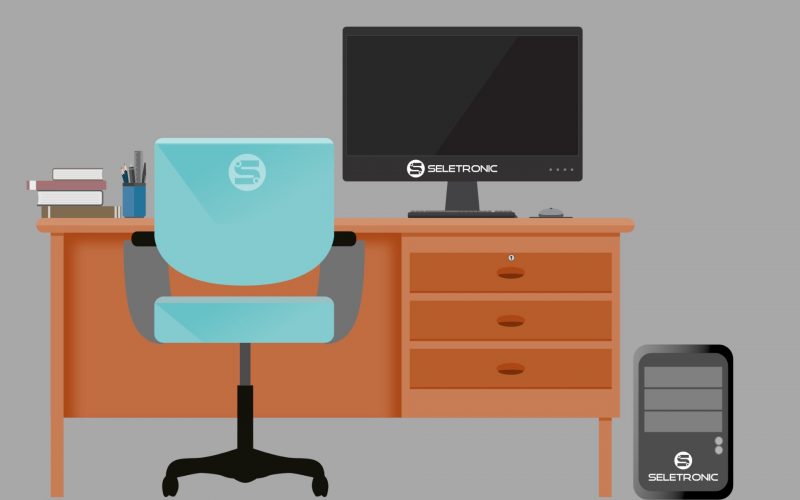 "Can computer case be on the floor?". This is a relatively common question, and there are many people who put their PC on the floor for lack of space, or for the sake of practicality. But will it harm your computer or not? After all, you paid dearly for your equipment and all kinds of care will be welcome. Despite the PC being a desktop device, it often doesn't fit on the most basic desktops. So many people end up being forced to put it on the floor until they get a proper table. Next, we will analyze if there are risks or not to use the computer on the floor.
Can I put PC on the floor?
Yes, you can use your computer on the floor, but it is important to note that when placing the accessory on the floor it will have much more contact with the dust in your room, which means that you will have to clean it more often, in addition to having a additional concern about the temperature of the computer.
In addition, it is extremely important that your PC has little feet so that it doesn't get too hot, because if it doesn't have feet, the bottom of the equipment won't have room for air circulation, which can become a big problem over the course of time. time. There are even supports made for those who need to leave the computer on the floor, raising the case a few centimeters off the floor, to improve air circulation. These supports mostly have little feet with wheels, which facilitate the locomotion and adjustment of the cabinet.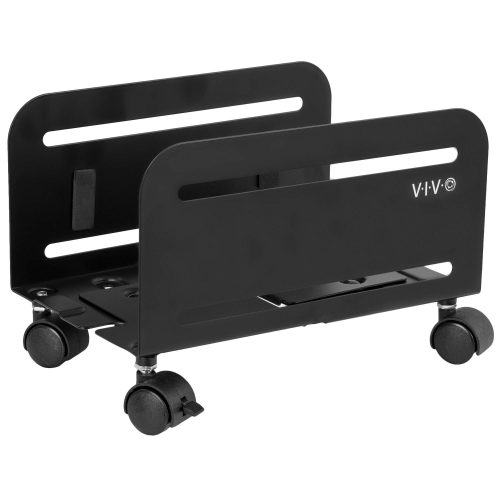 VIVO Computer Tower Desktop ATX-Case, CPU Steel Rolling Stand, Adjustable Mobile Cart Holder with Locking Caster Wheels, Black, CART-PC01
Most modern cases are not completely flat on the underside, they have feet so that the base is not touching the ground, which ensures some airflow below the case. In addition, all computer cases have fans to expel hot air through the vents, which allows cold air to enter. And in some cases they even have fans to keep the temperature even lower.
That is, if your cabinet has feet that place it a few cm above the ground, you can be much more relaxed, as the contact surface will not undergo overheating, ensuring the flow of air, making the situation not very different from using the PC at a desk. Although there is the possibility of using computers on the floor, it is certainly not the best alternative for the health of your PC.
Leave the Cabinet on the floor or table?
It is much more suitable and recommended that you place your PC on a table, so the computer will have more contact with the air circulation, in addition to the fact that it is in a more advantageous position, which prevents excessive dust accumulation. And more than that, you still guarantee a much more prominent position for your equipment, giving a more valued aesthetic and preventing people from accidentally kicking it on the ground.
There are numerous tables that are designed precisely to place computers in a more comfortable and safe position for their use, and if your table does not have enough space, it would certainly be interesting to search for options that guarantee more safety and practicality for using your PC. during your day to day.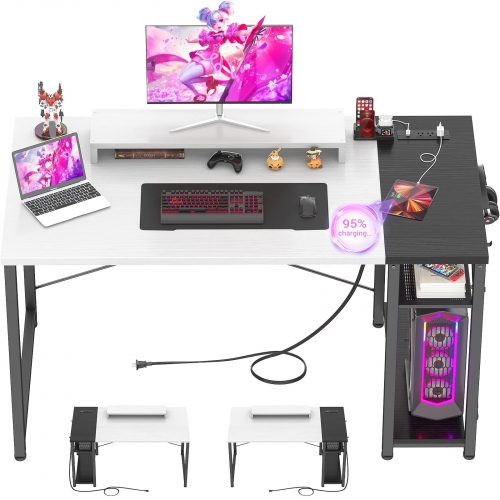 Armocity Computer Desk, Gaming Desk with Power Outlet and USB, 40 Inch Reversible Laptop Table with Moveable Monitor Stand, Small Desk for Small Spaces, Home Office, Gaming Room, White and Black
Marcus é o fundador da Seletronic. Além disso, é programador, e editor no site. Ama ajudar as pessoas a resolverem problemas com tecnologia, por isso criou esse site. Segundo ele: "A tecnologia foi feita para facilitar a vida das pessoas, então devemos ensinar a usá-la". Apesar de respirar tecnologia, ama plantas, animais exóticos e cozinhar.